Man la Mancha Guitar Solo's
Recorded in 2009 in Jackson Hole
A long time ago in California, I played the guitar part for the Western Stage Production of Man la Mancha musical. I really didn't want to play the last chord on the last night of the show as I didn't want it to end; this show is as fun to be a part of as it is to go see.
The story, by Cervantes, is one of the great milestones in literature, the play is one of the most popular theater productions, and then to top it off, it has that exciting, enchanting music by Mitch Leigh.
When I moved back home to Jackson Hole which has a very fine theater and resident Theater production troupe, I kept watching for them to advertise Man la Mancha and after a couple of years they finally did, so I jumped on doing the guitar part and we all had a wonderful time.
The Guitar part critically important to set the mood for each song with its exhilarating Flamenco rhythms and emotional melodies. However it can be done very badly by guitarists if they are focused on what other musicians will think rather than trying to get the guitar score to sparkle.  What I'm talking about is an electric guitar hates open strings and an acoustic guitar loves them.  An electric almost never plays an open string as they ring far louder and with twice the sustain and tone of notes that are held by a left hand finger.  Therefore electric guitarists are even arrogant about never playing simple chords that use open strings and Jazz guitarists are often used to playing in keys that don't use open strings.  An acoustic guitar on the other hand is just the opposite and is at its best when it can utilize open strings to increase sustain, volume and tone.  The great classical guitarist Narciso Yepes even used a ten string (Laudarra) guitar mostly so the low open strings would help it resonate via overtones (from a conversation I had with Maestro Yepes in the 80's) This is especially true in Flamenco to really get that "zing" into the sound of the guitar.  Now, a significant point is that the orchestration for Man la Mancha was written by a keyboard composer who wrote theater music for good sight reading Jazz players, that means a lot of Brass and Brass means a lot of Flat keys which means – no open strings on a guitar can be used, the opposite of what a Flamenco guitarist needs.  So, how do you get a Flamenco sound in this score?
A little diversion here from the topic, do you know why brass instruments prefer flat keys?  It's so they can read the notes as if they were in good old simple C.   Before they invented valves to change the length of the pipe and therefore the pitch, they used to use different lengths of pipe called "Crooks" by pulling one curved section out and sliding a new one in place that was a different length which would change the pitch of the whole instrument. With each Crook and a change in how you blew into it, you would get 4 or 5 different easy to play notes, song's usually need 8 notes or more. So as not to confuse the player, their music was all written as if they were playing in C whether they had the Bflat crook in or not.  When valves were invented of all the stupid things, they kept the transposed key of C being Bflat instead of C being a C. So all the other instruments that play with Brass players have to play in Bflat and Eflat more often to make it easy on the Trumpets and such.  Sounds ridiculous to me, but there are many things much worse than that in music; just ask me about the "great mistake", the musical alphabet or missing keys on a piano sometime or the chord construction number system.  It should be said though that each key can have a mood associated with it, that has more to do with the resonance of the instrument playing it, for instance if a guitarist plays in a flat key the mood is very dark, perhaps depressing or anger brewing under the surface because the instrument doesn't resonate with sympathetic notes, duller might be another label you could give it and that will probably bring war cries from the Jazz camp or pianists who love the mood of Bflat or even a Jazz guitarist, but remember those guitarists are using electric instruments with artificial tone enhancements but that makes open strings a disaster, too much sustain, too much resonance so electric's avoid them.  But, acoustic instruments need open strings to enhance the tone.  That probably sounds like I'm against amplifiers, I used to play in bands through school and college and had a whole arsenal of tone bending stomp boxes, you can get a huge range of color and mood from these things and it's an art form of its own finding a new attractive sound, I also minored in electronic music at CalArts with Morton Subotnick,(of Kurbrick's movie "2001" soundtrack fame & many modern compositions) and I often use amplification with my acoustic depending on the situation.  I'm certainly not insulting anyone, just stating facts, there's appropriate place for most everything and history is not always logical but that gives it personality.
There is of course a simple tool used by every respectable Flamenco guitarist called a Capo or Capistado.  It ties on the neck effectively shortening it so you can have different "open" strings even if you have to have your fingers way up on the neck, you can still hit or have a sympathetic string resonate.  However, then it appears to the guitarist, just like the transposing trumpet player, that he's playing in a different key.  That means all the written music needs to be transposed which is a big job on a score as big and varying in detail as is la Mancha.  In any case the arrogance of many technically strong guitarists take pride in playing this score with bar chords held by the index finger rather than use a capo, plus then they don't have to transpose all the music which is a lot of work as it is a lot of music but they lose the most important aspect, the zing of that Flamenco sound.  They might be very surprised to see me, a classical guitarist, do this score, as a Flamenco guitarist would do, I use a Capo a lot.  So, for me, a great deal of the time spent in preparing was selecting the right key for the guitar to play each song in and finding ways to get more Spanish Flamenco sound out of the score.  Additionally, as people were singing this, you had to be prepared to switch keys up or down, on a guitar, that can change everything that you had learned as it might force a completely different chord pattern sequence.  Aldonza's main song was in particular giving me fits; I just wasn't finding the solutions I needed to make that song ring with aggression and excitement.
There was also the issue that the composer would start each song off with a hot Flamenco type rhythmic pattern, each one slightly different from the one before so it was very easy to start the wrong rhythm which would foul everyone up.  The composer also used rare time signatures trying to get an exotic sound such at 7/8 or 5/4 or he would start with a measure of ¾ and then switch to 4/4 and then back to ¾, he would then indicate that he wanted a Rasqueado type strumming done within that framework.  I spent many nights for weeks up until 3am trying to get the starts correct and the keys sorted to the best possible solution.   The chords were written in studio orchestra style which means it was handwritten standard staff line notation for single line notes and a chord name and rhythm indications.  I had forgotten how hard this score was, it changed the accompaniment for each pass through the melody unlike most songs so you really had to read this thing or it made for a huge amount of memorizing.
The Rasqueados are another place where most theater guitarists fall down, the technique is not something you can learn overnight like a new chord, few Classical guitarist can do it, the Romeros' can, most Jazz guitarists can't do it but they can read music and Flamenco guitarists usually can't read music and remember this score is intense in requiring the guitarist to read well but they have great Rasqueados.  The Rasqueado technique uses very weak muscles that have never had to work against resistance and they have to act extraordinarily quick in perfectly timed sequence plus each finger is a different length, weight, nail shape and has a different muscle arrangement, they have to travel all the way across the strings before the next one starts.  You can substitute traditional strumming but you instantly and very obviously lose that distinctive Flamenco quality.  This show and story is about Spain, people in prison, pride, honor, striving for chivalry, Gypsies, how can a guitarist live with themselves if they take the arrogant and ultimately easy way out on the sound using bar chords and regular strumming, the actors might as well not wear any period costumes.  Fortunately for me I knew several Flamenco guitarists such as Morrie Mizrahi, Phil Boroff, Peter Evans and Jesus Cortez early in my career, had seen some of the very best Flamenco guitarists in concert and learned how to do a good Rasqueado a long time ago and incorporated into my playing of many songs as it adds such a thrill to a strum.
Here's a funny, as I mentioned, I was up until 3 am many nights before the first performance, mostly as I just could not seem to find a good solution for Aldonza.  It's an aggressive song where she's mad at the world for being so cruel and heartless and how Don Quixote had ruined her life by showing her kindness and making her think that there was hope which in turn had stripped all her defenses away and then she had been terribly abused.  She's lashing out at him raging about the injustice of the world.  It's in the worst possible guitar key and once again the guitar starts this thing.  And in the middle of the song, it changes key by a half step to add more frenzy and it was the second worst key for the guitar.  As I battled away with this song night after night without a good resolution and the show approaching, I was beside myself, it just wasn't coming out with the quality it deserved.  Then I hit on a possible solution, but I had many such moments that couldn't survive the entire song, and then suddenly out of all the stress and effort, suddenly my hands tore into the "Shock Relief Rag", I had of course never played it before, in fact is had not been written before that moment and too was not even in a good guitar key, in fact it wrote itself on the spot, the hands just took over and away we went.  I often call it the Duesy Rag as it has so many car horn sounds in it I have this story line image in mind of a car aficionado transported back in time to the days of the Duesenberg automobile.  Anyway, it's a great little Rag, and I dearly love it, I had considered including it on the album but decided against it.  I wanted to play that instead of work on Aldonza (my thoughts were that moment that Aldonza was a bitch which had a fun double meaning).  In any case, during that, I hit on the solution for Aldonza, so opening performance that's the way I played it.  It's scary before each song because as I say, the guitar starts most of them with a lot of aggression, and if you do dum te da, dum te dah burumm burmm instead of te da burumm te da, you would destroy the performance.   There is so much that has been learned more than one way like Aldonza so remembering which one in what key was it that solved the problem?  Lots of tension and you REALLY have to concentrate.  So, my solution for Aldonza worked and in fact worked very well, I played it that way for the next three performances and then on the fourth performance, I realized, that's the same exact solution I came up with all those years before when I had done this in California but I had forgotten the solution.  I wrote it down this time.
Curtain Opening Flamenco Dance
I Man la Mancha
Aldonza
Dulcinea
I'm only thinking of him
What does he want of me
Little Bird
Little Bird Jokers
To each his Dulcinea
Aldonza Underscore
Dulcinea Reprise
The Impossible Dream
Exit Music recap
<![if !vml]>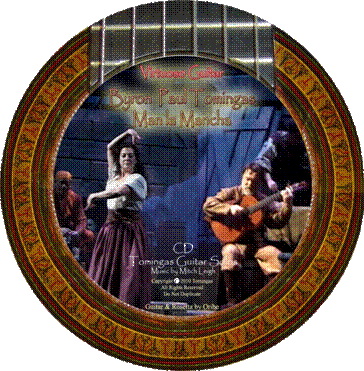 <![endif]>
Now, (finally!) about this recording I've made; I don't disengage well from anything I like and I loved doing Man la Mancha as you can probably tell, there was a lot of emotion and effort poured into it.  I had already done several arrangements of the songs for solo guitar for the theater production like Aldonza's Reprise where Don Quixote is dying and she's singing to him, and a solo version of "The Impossible Dream" while Don Quixote's is talking to himself preparing to become a Knight.  So it was inevitable I would start doing the rest of the songs in the months following the end of the production.  That summer for my annual Birthday Concert I played the entire set and made it the Man La Mancha Solo's CD release party, introducing each song with a synopsis of what was happening in the play.  I'm particularly happy with how closely the arrangements follow the play and keeps the Flamenco feel, humor at the right time, sleazy sections for the introduction of the "been there, done that, seen everything rotten that a man can be" Aldonza who is seen by Don Quixote as the pure and innocent Dulcinea.  The chatter sections where Don Quixote's family is plotting to throw him in a nut house to avoid being embarrassed and they are singing "I'm only thinking of him, I'm only thinking of him".  If you know the play or the Cervantes book well, then you will get a lot more from this recording.  My whole purpose was to convey the mood as it flowed through this, one of the greatest musicals of all time and one of the most significant books in literature.
Byron 26.June.2011 Jackson Hole, WY
Curtain Opening Flamenco Dance
This was written to be highly improvisational so it will sound quite different with whoever plays it.  Usually this score has two guitars so I adapted little fill runs in between the chordal passages.  I didn't know we were going to have a dancer and singer with it until a couple of days before and they had been practicing with a recording of one of the famous stage productions so suddenly I had to formalize it so we could play in sync, that was painful to do at the last moment.  We got one private rehearsal and then the Dress Rehearsal with cast and crew, then the show.  The dress rehearsal I was way out of sync with the dancer but for the show it came together although I played a mild version, not so many Flamenco flare runs as compared to the last show.